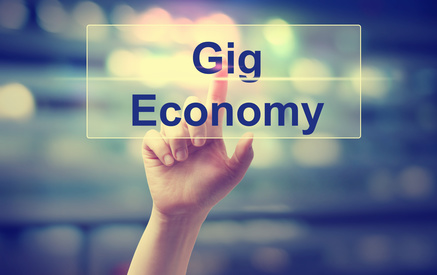 They're self-employed freelancers. They're contract workers. They're fully paid up employees. If the merry-go-round of 'gig economy' opinion of the past few months has left you reeling, don't expect things to change for a while yet…
Blame Uber. Or Deliveroo. Or any of the young, disruptive upstart businesses whose operating models depend on flexible, on-the-face-of-it-freelance workers. Except, if legal opinion over the past few months has been anything to go by, they aren't freelance.
The 'gig' economy is growing. According to research by Oracle, reported in Payroll World, 40% of businesses already hire new people on a temporary or project basis. That figure will rise to half by 2020.
Classifying staff as self-employed brings lots of advantages for business, of course. And at the sharp end of those advantages are the payroll processors who don't have to worry about such things as holiday pay or sick leave. At its current rate of growth and left unchecked, payroll departments could find a great chunk of their work disappearing over the next few years, as 'gig' workers are required to sort their own pensions, training, uniforms and more.
Who's got the gig?
But, as recent case law and increasingly agitated unions have shown, the ability of businesses to classify a worker as self-employed is not unfettered. This has been highlighted by Uber's failure to establish its drivers as self-employed (the company is appealing) and Pimlico Plumbers' failed argument that its staff were independent contractors.
Both cases could have far reaching consequences for all businesses, which it makes it all the more important that businesses and their payroll departments get some clarity over exactly who can be classed as a 'gig' worker and who can't.
Self-employment that isn't
The problem stems from a fundamental shift in what it is to be self-employed. Traditionally, the self-employed may not have had the protections or benefits enjoyed by employees, but nor are they bound by their terms. A self-employed person has (theoretically at least) far more control over the hours they work, the projects they take on and the money they earn. Whilst this model of self-employment still exists, the second type of self-employment comes with far more conditions and strings attached, and that's when courts have tended to rule that 'gig' workers are entitled to the same conditions as other workers.
The payroll problem
The problem for payroll teams is that they are very much the middle men/women, caught between an employer's assertion that someone is a 'gig' worker on the one hand, and the claim by the employee that they are a de facto worker on the other.
As long as the rule book continues to be stitched together out of a raft of occasional case law, payroll providers can expect to find themselves in a sorry hokey-cokey of shifting workers from one category to the other for a good while to come.
Which is a dispiriting gig, by any measure.