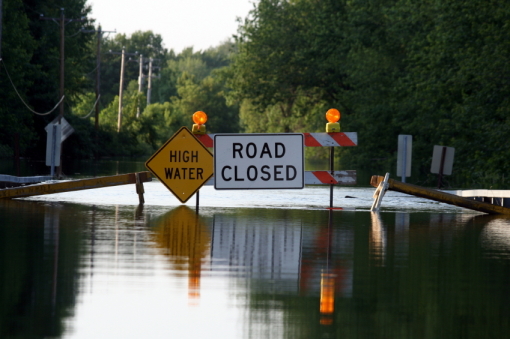 At the time of writing, yet another overactive weather system is about to batter the UK in what has become an unchanging cycle of storms and floods. What has changed is the growing level of the response. We've rounded up just some of the flood advice and sources of help available to you.
How are banks and insurers helping flooded businesses?
HSBC, Lloyds and RBS/NatWest are all offering interest free loans to help businesses manage the cost of flood clean-ups. The RBS/NatWest UK Storm Business Fund is open to any business – whether an RBS/NatWest customer or not. To apply, visit any branch.
RBS and NatWest have also sent business support teams to flooded areas to help firms address short term funding issues.
HSBC has pledged to give existing customers loan and overdraft extensions, will reduce or waive arrangement fees, and will offer up to three month's loan payment holiday. HSBC loss adjusters have been sent to the worst-hit areas of the country to provide a rapid response to wind and flood damage claims.
Santander has set up a specific helpline to deal with calls from flooded customers and is renewing or extending overdrafts (business and personal) without charge. For help, call 0800 121 4933.
Lloyds, in addition to providing interest free business loans, is providing loan repayment holidays, waiving fees and arranging or extending overdrafts.
Axa has said it will fast-track payments of up to £1,000 to businesses facing emergency costs.
Help with business rates for flooded businesses
Details are yet to be announced, but the government has said flood-affected businesses will be able to apply to their local authority for 100% business rate relief for 3 months.
Help from HMRC
HMRC has launched a helpline for business owners affected by flooding who are finding it difficult to make tax payments as a result.
A deferral scheme will allow up to three additional months to pay VAT, PAYE and corporation tax. Additionally, HMRC has announced it will agree individual arrangements with tax payers who miss deadlines, incur penalties or lose records as a result of the floods.
You can call the helpline on 0800 904 7900 (8am to 8pm weekdays; 8am to 4pm weekends).
When should I call my insurer?
Call your insurer as soon as possible after you've been flooded. They'll be able to discuss your specific needs. For some businesses there'll be questions about ruined stock or inability to meet contracts/deadlines. For others the key issues may be loss of trade or damage to plant or equipment. If turning off the electricity to your property would leave your premises without security, discuss this with your insurer too.
Don't automatically destroy or dispose of damaged goods or fittings. The insurer may need to see them – or at least a sample of them.
Do take photographs – ideally on a smartphone or tablet so you can forward them to your insurer even if the power's out.
As a general rule: get advice from your insurer before you take any action.
Am I covered for flooding – and to what extent?
Business insurance will usually cover flood damage to the fabric of the building and stock. Three quarters of businesses also have business interruption insurance which will enable you to secure alternative temporary premises until you are able to return to your regular building. If you suffer a loss of revenue during that period you may also be covered against the shortfall.
What do I tell my customers/suppliers?
Talk to them about your situation. They may not all be willing to wait forever for you to pay their bill or supply their product, but many will be willing to give you some breathing space.