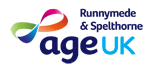 We approached Just Payroll a year and a half ago in the middle of the merger of two neighbouring Age Concerns in Spelthorne and Runnymede and our re-branding to Age UK. They were easily the most approachable and cost effective organisation we contacted to deal with the merged charity including the existing bureau. With our permission they arranged and coordinated the electronic transfer of our existing payroll records from the existing providers which was very handy as we had no means of handling these files internally.
All the staff at Just Payroll have dealt with the situations and questions we have thrown at them efficiently and without any fuss. Whoever answers the phone is invariably courteous and helpful and on the rare occasions when they have needed to get back to us with an answer this has been done promptly.
We have no hesitation in recommending Just Payroll and are very happy to be contacted to discuss this further.