Grosvenor House Practice Ltd, provide a range of accountancy services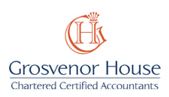 such as Annual Auditing, Tax Planning and Financial Outsourcing
and have been delivering these services for over 15 years.
Just Payroll Services understand the importance of making sure they
deliver the correct assistance exactly when clients need it and this was
exemplified by providing Grosvenor House Practice with an Auto Enrolment
service in good time, before their staging date.
"They are very efficient and the process routine is good and very simple." "It is also good that JPS email to check all is ok if we are late with any inputs" said Sarah Brown – Managing Director.
Sarah also remarked, "The Auto Enrolment service is really good. We started this service early so we would be ready in good time. It all went very smoothly; the reports are clear and the payments are fine".
Sarah commented further, "Our Payroll Administrator is very good, there's no over contact and no fuss. Everyone here knows the service and its ease of use and our queries are dealt with very quickly; within a couple of hours."
"I would recommend their services and have done so already."