Wages are on the up. In real terms however, they're on the way down, currently fighting a losing battle with inflation. The effect is to leave more staff expecting a pay rise. But what happens when you can't afford it?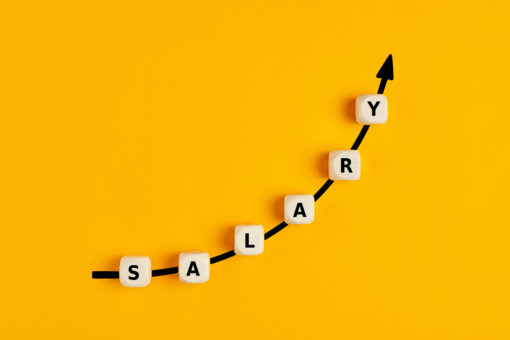 Sainsbury's has announced a 5.3% pay rise for workers, lifting its basic pay to at least £10 per hour. Next has announced its prices are set to increase by 6%, a move driven at least in part by rising wages.
These recent pieces of news confound the view expressed frequently in the autumn (for example, in this piece by the FT) that steep pay rises were confined only to pockets of the economy with chronic shortages, haulage drivers being an obvious example from 2021.
It's not just truck drivers, care providers and building contractors having to pay inflated wages (although those are the areas that have seen the largest signing-on bonuses and wage hikes).
Forbes notes that, were December increases maintained for the year, US wages would increase at an average rate of 7.3% this year. The UK does appear to be following a similar path.
The inflation challenge
Rising wages aren't the only challenge. According to the government, "the Consumer Prices Index (CPI) rose by 5.1% in the 12 months to November 2021, up from 4.2% to October. This is the highest CPI 12-month inflation rate since September 2011, when it stood at 5.2%."
Inflation affects every aspect of a company's balance sheet, including wages, because staff begin to find that their existing wage doesn't go quite as far as it once did. The Independent reports that a combination of rising inflation and tax increases imposed by the Chancellor (such as the Social Care Levy) will cut take home pay for someone earning £30,000 by £1,600 this year. You can hardly blame them for asking for a wage rise.
As a business owner, options are limited. Every additional percentage point you add to your workers' salaries needs to be found from somewhere, and raising your own prices may not be an easy option. Without a rise, however, you increase the risk that workers choose (or feel forced) to go in search of someone who'll pay more.
So what are your options when staff ask for more money but you can't afford to give it?
Increase the package:
Look for alternatives that could give your people the effect of a pay rise without the same financial hit to the business. Getting creative with salary sacrifice schemes so staff can drive better cars, adding a day or two to the leave allowance, increasing flexible working options or upping private healthcare may all help tip the balance. It is important, however, to ensure that your people are happy with the arrangements. Upping benefits not everyone can (or wants to) take advantage of will likely leave you back at square one.
Increase the personal development:
A pay rise won't make someone happy in their job. It won't nudge them closer to promotion. It won't make them more fulfilled. But personal development in the form of formal training, mentoring or new opportunities might. Talk to your people to understand their motivations and ambitions. If you can help them achieve them, it could help offset calls for higher pay.
Increase the praise:
Let's not pretend a 'thank you' will offset a £1,600 hole in worker's pay packets. But there's no doubt that many workers feel disengaged at work. One Gallup report suggested 40% of workers never received positive feedback. If workers need higher pay, praise won't change that reality. But goodwill and feeling positive about an employer may prevent or at least delay the worker feeling they have to jump ship.
Increase the performance:
You can't afford a pay rise now. But perhaps you could if you were able to improve performance or efficiency, or cut costs. Linking pay to personal or company performance is risky. You'll need to be open and transparent about the T&Cs. You'll also need a clear way of measuring the performance so everyone can see progress, otherwise you'll risk losing goodwill and more. But this is potentially a way of creating space for a pay rise. And you'll end up with a better running business to boot.
One of way of reducing costs and boosting efficiency is to outsource your payroll. To find out how (and by how much) talk to us on 01276 805 844 or contact us.